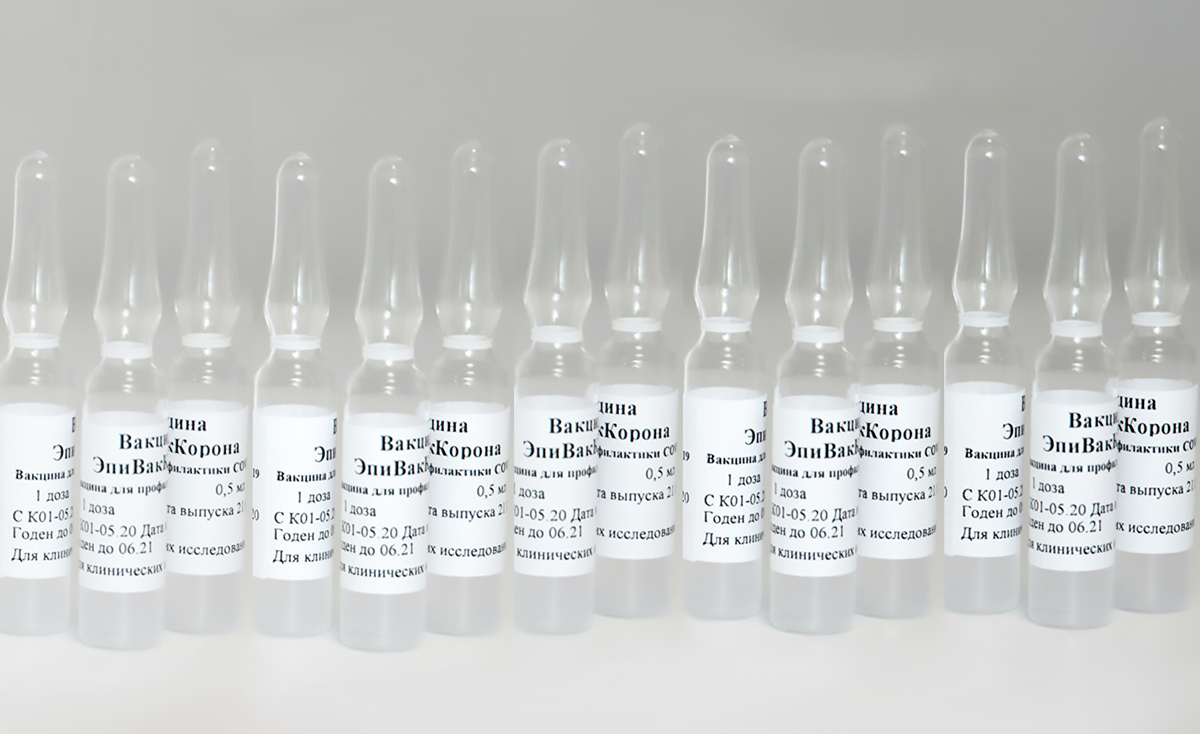 EpiVacCorona is a peptide-based vaccine against COVID-19 developed by the VECTOR center of Virology. It consists of three chemically synthesized peptides (short fragments of a viral spike protein) that are conjugated to a large carrier protein. This protein is a fusion product of a viral nucleocapsid protein and a bacterial MBP protein.
According to the vaccine developers, the peptides and the viral part of the chimeric protein should immunize people who received this vaccine against SARS-CoV-2 and trigger the production of protective antibodies. However, some experts in the field have expressed concerns about the selection of peptides for use as vaccine antigens. In addition, there are also serious concerns about the vaccine immunogenicity data, which have fueled independent civic research efforts and criticism by some experts.
Meanwhile, the EpiVacCorona has received vaccine emergency authorization in a form of government registration and is available for vaccination outside the clinical trials. The vaccine delivered via intramuscular route and aluminum hydroxide serves as an immunological adjuvant.
The vaccine includes three chemically synthesized short fragments of the viral spike protein – peptides, which, according to the developers of EpiVacCorona represent the protein regions containing B-cell epitopes that should be recognized by the human immune system.
These peptides are represented by following amino acid sequences:
CRLFRKSNLKPFERDISTEIYQAGS,
CKEIDRLNEVAKNLNESLIDLQE,
CKNLNESLIDLQELGKYEQYIK.
In the vaccine all peptides are conjugated to a carrier protein, which is an expression product of the chimeric gene. This chimeric gene was created by fusion of two genes originating from different organisms, namely a gene encoding a viral nucleocapsid protein and a gene encoding a bacterial maltose-binding protein (MBP). The fusion chimeric gene expressed in Escherichia coli. The sequence of the chimeric protein is available from the patent.
The genetic construct of the chimeric gene also includes a short genetic fragment encoding a polyhistidine-tag, which is used to purify the chimeric protein from E. coli lysate. After the purification, the protein is conjugated with three peptides in a way that only one variant of the peptide molecule is attached to each protein molecule. As a result, three types of conjugated molecules are created: chimeric protein with attached peptide number 1, the same protein with peptide number 2, and finally the same protein with peptide number 3. All three types of conjugated molecules are included in the vaccine.
A person vaccinated with EpiVacCorona can develop antibodies not only to the peptides of the spike protein, but also to other antigens present in the vaccine. According to Anna Popova who is a head of the Federal Service for Supervision of Consumer Rights Protection and Human Welfare, it takes 42 days for those vaccinated with EpiVacCorona to develop immunity.
---
---