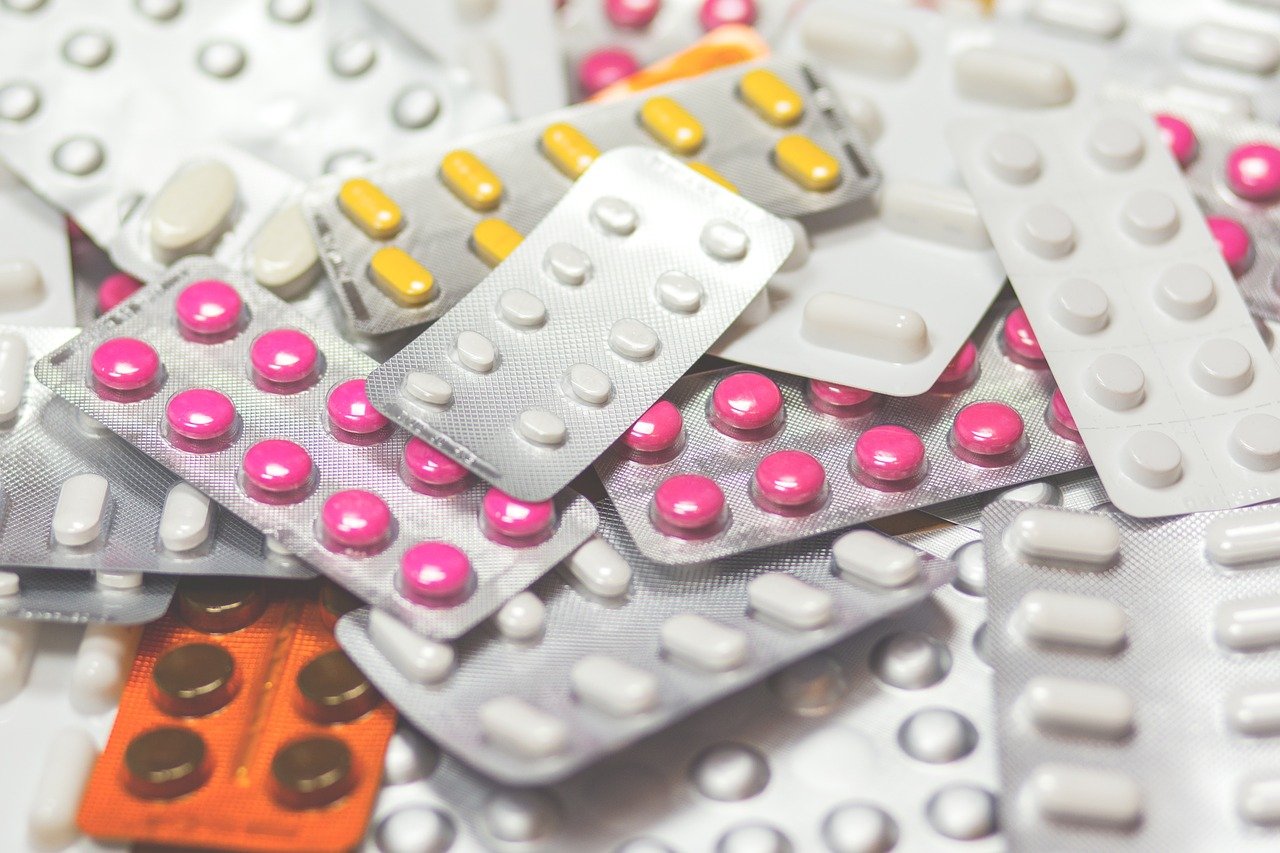 A Tablet is a Pharmaceutical Oral dosage Form (oral solid dosage, or OSD) or Solid Unit Dosage Form.
A tablet is a pharmaceutical oral dosage form (oral solid dosage, or OSD) or solid unit dosage form. Tablets may be defined as the solid unit dosage form of medicament or medicaments with suitable excipients. It comprises a mixture of active substances and excipients, usually in powder form, pressed or compacted from a powder into a solid dose.
Tablets are prepared either by molding or by compression. The excipients can include diluents, binders or granulating agents, glidants (flow aids) and lubricants to ensure efficient tabletting; disintegrants to promote tablet break-up in the digestive tract; sweeteners or flavours to enhance taste; and pigments to make the tablets visually attractive or aid in visual identification of an unknown tablet. A polymer coating is often applied to make the tablet smoother and easier to swallow, to control the release rate of the active ingredient, to make it more resistant to the environment (extending its shelf life), or to enhance the tablet's appearance. Medicinal tablets were originally made in the shape of a disk of whatever color their components determined, but are now made in many shapes and colors to help distinguish different medicines. Tablets are often stamped with symbols, letters, and numbers, which enable them to be identified. Sizes of tablets to be swallowed range from a few millimetres to about a centimetre.
The compressed tablet is the most popular dosage form in use today. About two-thirds of all prescriptions are dispensed as solid dosage forms, and half of these are compressed tablets. A tablet can be formulated to deliver an accurate dosage to a specific site; it is usually taken orally, but can be administered sublingually, buccally, rectally or intravaginally. The tablet is just one of the many forms that an oral drug can take such as syrups, elixirs, suspensions, and emulsions.
Types
Pills
Combined oral contraceptive pills were nicknamed "the pill" in the 1960s[citation needed] A pill was originally defined as a small, round, solid pharmaceutical oral dosage form of medication. Today, pills include tablets, capsules, and variants thereof like caplets — essentially, any solid form of medication colloquially falls into the pill category.
An early example of pills came from Ancient Rome. They were made of the zinc carbonates hydrozincite and smithsonite. The pills were used for sore eyes, and were found aboard a Roman ship Relitto del Pozzino which wrecked in 140 BC. However, these tablets were meant to be pressed on the eyes, not swallowed.[3][4]
Caplets
Variations on a common tablet design, which can be distinguished by both colour and shape
A caplet is a smooth, coated, oval-shaped medicinal tablet in the general shape of a capsule. Many caplets have an indentation running down the middle so they may be split in half more easily.[5] Since their inception, capsules have been viewed by consumers as the most efficient method of taking medication. For this reason, producers of drugs such as OTC analgesics wanting to emphasize the strength of their product developed the "caplet", a portmanteau[6] of capsule-shaped tablet,[7][8] in order to tie this positive association to more efficiently-produced tablet pills, as well as being an easier-to-swallow shape than the usual disk-shaped tablet.
Olanzapine tablets
Orally disintegrating tablets (ODT)
An orally disintegrating tablet or orodispersible tablet (ODT), is a drug dosage form available for a limited range of over-the-counter (OTC) and prescription medications
Film coated tablets (FCT)
A film coated tablet is a drug dosage form available for a limited range of over-the-counter (OTC) and prescription medications. The used films protect the drug substance against denaturation by stomach acid and/or support a delayed (modified) release of the drug substance ("retard effect"). Such tablets should not be damaged or broken.
source: wikipedia